Schools of Hope Middle School Academic Tutoring
Schools of Hope provides one-on-one and small group literacy and mathematics tutoring, helping students improve their academic performance and readiness for high school, college, and career. As a key part of the United Way of Dane County?s Agenda for Change, the Schools of Hope program is operated by the Urban League in 12 middle schools in the Madison, Oregon, and Sun Prairie school districts.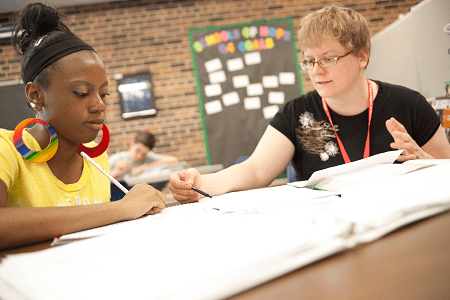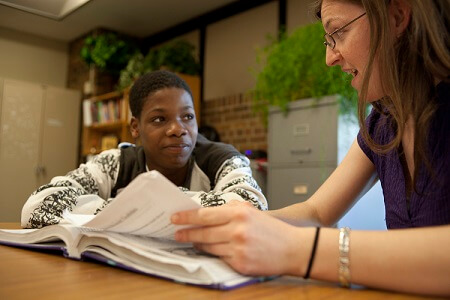 Schools of Hope Background
Schools of Hope began in 1995 as a civic journalism project of the Wisconsin State Journal and WISC-TV that looked at critical including safety and discipline, cost, race and culture, family involvement and academic standards and achievement. A Leadership Team, led by United Way of Dane County, was convened. It was apparent the achievement gap between students of color and their white peers was growing larger, despite millions of dollars and "good efforts" that had been tried over the past twenty years at the school district to reduce the gap. The leadership team expanded the activity related to the achievement gap into a community effort, led by United Way of Dane County, that supports the work of the schools to reduce the gap between the achievement scores of white students and students of color.
In 1995, Schools of Hope set a goal of reducing the racial achievement gap in 3rd grade reading by 2000. By placing trained tutors in over 25 Madison elementary schools, the gap began to narrow three years ahead of plan. Through financial support from the United Way, the City of Madison, and Madison Metropolitan School District, the Urban League and Madison School-Community Recreation (MSCR) set out in 2000 to replicate this success primarily in middle school math. Since that time, other community partners such as Madison Area Technical College (MATC) and Centro Hispano have joined in. Working closely with area schools, the League recruits, trains and matches tutors one-on-one and in small groups with struggling students.