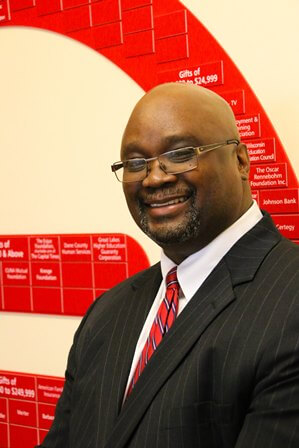 Ruben L. Anthony, Jr., Ph.D
President & CEO
Ruben L. Anthony, Jr., was appointed president & CEO of the Urban League of Greater Madison in March 2015. Dr. Anthony has been a manager for over 27 years. He started RowJAC Consulting, a Management and Planning Firm that Specializes in Civil Rights in government contracting, in 2013. Through RowJAC he has served as the interim Director of Milwaukee County's Community Business Development Program which is responsible for enforcing compliance in procurement and contracting. Dr. Anthony has also served as a disadvantage business enterprise capacity building adviser to the Milwaukee Metropolitan Sewerage District, the Minnesota Department of Transportation and to the Dulles Airport in Washington D.C.
Prior to launching RowJAC, Dr. Anthony was the Senior Vice-President of Bloom Companies, an engineering firm, from 2010 to 2013. The majority (19 years) of his career has been as a manager with the Wisconsin Department of Transportation where he started as a first line supervisor and eventually became the Deputy Secretary and served as the Chief Operations Officer from 2003 to 2010. As the Deputy Secretary he managed 3,600 FTEs and an annual budget of over $3.25 billion dollars. He was also responsible for managing the day to day operations of the agency and overseeing the programming of all areas.
Ruben has an extensive professional and academic background in disadvantaged business development. Under his leadership WisDOT reached historically high DBE goals on all mega projects. In 2004 he won local, regional and national awards from the US Small Business Administration. He won an excellence award from the Wisconsin Supplier Diversity Council in 2004 and 2008 and a Stewardship and Advocacy Award from the National Association of Minority Contractors in 2010.
Ruben is the architect of the "Wisconsin Model" for increasing disadvantaged business enterprise (DBE) participation. As result, in 2010 and 2011 Dr. Anthony was asked to go on a national tour with the FHWA to share the model with other states. The federal highway administration (FHWA) has deemed this among the top two models in the nation for increasing small and disadvantaged business participation.
Dr. Anthony and his wife Wanda have lived in Dane County Since 1988 and they have three children: Anderson, Justice and Cornelius. Ruben is also an adjunct professor at the University of Wisconsin-Milwaukee and a Deacon at Mt. Zion Baptist Church.