Sponsorship of Urban League events and programs provide opportunities for an investment in our community and visibility for your organization. Your sponsorship ensures all members of our community are educated, employed and empowered to live well, advance professionally, and contribute to the common good in the 21st Century. Sponsorship opportunities are available now!
MLK Youth Recognition Breakfast
& MLK Youth Call to Service
January 15 & 16, 2022
The MLK Youth Recognition Breakfast celebrates students? academic achievement, extracurricular involvement, and service to their community. The highlight of the Breakfast is the presentation of Outstanding Young Person Awards to nearly 200 middle and high school students of color in Dane County. Martin Luther King Scholarships are presented to exceptional high school seniors. The breakfast is open to the public and is one of the oldest and most well-attended family observations of the King Holiday in Wisconsin, with over 900 people attending the event annually!
The MLK Youth Service Day is an exciting and inspiring county-wide project promoting learning and leadership through hands-on learning and volunteerism. Hundreds of Dane County Middle School students from diverse multicultural and socioeconomic backgrounds will participate in an inspiring, educational and community- building experience that includes workshops, speakers, entertainment, and community service projects.
The Madison Region's Economic Development and Diversity Summit
Wednesday, May 10, 2023
Through a nationally recognized collaboration, the Madison Region Economic Partnership (MadREP) and the Urban League of Greater Madison (ULGM) will host a joint event for Madison Region business and community leaders focused on workforce diversity and economic inclusion. This annual Summit builds on our previous joint events in a collective commitment to advancing talent, opportunity and growth for all the region?s citizens.
The day-long Summit will engage, educate, and empower attendees around issues related to economic, workforce, and community development. Held at the Monona Terrace, the event will feature keynote speakers, break-out sessions, and ample networking opportunities. Participants will represent the entire eight-county Madison Region, with an anticipated audience of 600+ business executives, community leaders, economic development professionals, educators, elected officials, entrepreneurs, and emerging leaders.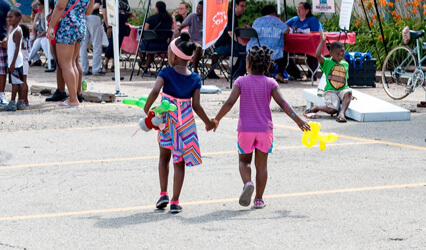 Unity Picnic
Saturday, July 22, 2023
The Unity Picnic has become one of the most exciting, family-friendly, community-building events in Madison. Unity Picnic will feature live music, youth performances, kids activities, and free food including award-winning BBQ. Most importantly, the event will feature great fellowship! Over 600 individuals and families from South Madison and all throughout Dane County will attend. The event includes sponsorship opportunities for both businesses AND community organizations.

Urban League Program Sponsorship
Program sponsorships of Urban League's empowering initiatives are warmly welcomed. Please contact Edward Lee, Senior Vice President, to learn more at [email protected] or 608.729.1211.